Quarterly Contests
Flanagan's Winter Wonderland Giveaway!
Christmas will be here before you know it (we know, we know…too soon!) BUT, in honor of the inevitable winter wonderscapes arrival, Dr Flanagan is launching his WINTER WONDERLAND GIVEAWAY!
Imagine: Snow is falling, there's a chill in the air and Mariah Carey has officially defrosted for the season, ready to sing.
What better way to celebrate the cheer of the holiday than with a winter getaway to the Wisconsin Dells Wilderness Resort and Indoor Water Park AND shredding the hills at Cascade Mountain!
For a combined retail value of $1000!! ($700 towards the Wilderness and $300 to Cascade)
One entry per person
UNLESS:
º You refer a friend and they schedule a new patient consultation
º Leave us a Google review (Here!)
º Bring in a food donation for Miss Carly!
You could be entered up to four times!
One lucky winner will be selected on 12/20/23.
Good Luck!
Complete the form below to enter our latest contest!
Are you not yet a patient of Flanagan Orthodontics?
Click here to schedule your free smile exam!
You know who has more fun than our office?
No one. That's the answer.
From our monthly Theme Days to our always awesome giveaways, we're always up to somethin'!
Every month our office holds a different theme day. It could be Luau's in January, every Superhero you can think of, or if you're lucky, you could get to see Dr. Flanagan dress as a leprechaun for St. Patrick's Day! Fun is kind of our 'thing'.

Our office wouldn't be what it is today without you, our patients. And as a way of saying thank you, we have monthly giveaways! We love to support our community, so you'll see a lot of locally owned businesses highlighted with our giveaways. We have giveaways for our current patients, for our fans on Facebook, our Kids Club. We just can't stop giving things away!

As an office, we are always trying to help our community in any way that we can. From working with the Easterseals Academy, Miss Carly's, local schools or the Rock River Valley Pantry, we strive to do whatever we can to help improve the lives of those in our area.
We've rallied together to help in the efforts to bring some cheer to our area's elderly by contributing to a Valentine's Day Card event. Mitten Trees to gather warm supplies for the area's homeless and less fortunate. This year we're even giving away hundreds of Easter cards and plush animals to less fortunate children in the area.
Local girl scouts benefit as well, as we purchase hundreds of boxes of cookies each year to donate or giveaway.
We also provide Noah's Arc Animal Rescue with all of the distilled water needs!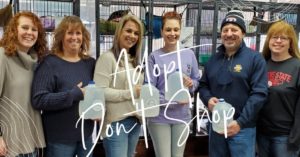 Have an idea as to how we can help those in our area?
How about some giveaway suggestions or theme day ideas?
Please feel free to email our marketing coordinator!
 lauricox@flanaganortho.com