Thanks to today's advances in orthodontic technology, Dennis J. Flanagan DDS, MS  provides our patients with more options than ever before when it comes to wearing braces. While regular metal braces are still widely used, clear braces are becoming increasingly popular along with removable appliances that can be used for wide variety of problems with misaligned teeth. Here at Flanagan Orthodontics, we don't believe you should have to choose between cost and aesthetics, so we won't make you. There is no difference in cost from metal braces, to ceramic, to clear invisible aligners!
Dr Flanagan and his team will create a personalized treatment plan to meet your needs and help  to determine which orthodontic appliance is right for you or your child.

State-of-the-Art Metal Braces
Traditional metal braces are the most common type of braces and are smaller and more comfortable today than ever before. Made of space age metal alloys, metal braces straighten your teeth with brackets and archwires. Anyone who decides on having fixed braces wishes to have a beautiful smile and healthy teeth. Why not take a short-cut – with BioQuick Brackets! These state-of-the-art, self-ligating brackets can help to hasten your treatment and requires fewer and shorter follow-up appointments.
Ceramic Braces
Ceramic braces are made of clear materials and less visible  than metal braces. Ceramic braces are often requested by older teenagers and adult patients who have aesthetic concerns but are an option for most patients. No matter which age group the patients belong, they all have the same ambitions: the braces should be as inconspicuous as possible and treatment should be completed as quickly as possible. QuicKlear, the state-of-the-art, self-ligating ceramic brackets satisfy both of these wishes.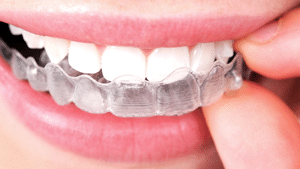 Invisible Braces
Clear appliances, such as Invisalign and Invisalign Teen, use a series of invisible, removable, and comfortable aligners to straighten your teeth. No one can tell you are wearing aligners because they are invisible! They are also removable, so you can eat and drink what you want during treatment and day to day brushing and flossing is much less of a hassle. The aligners are comfortable to wear and there is no metal to irritate your lips and cheeks during treatment.