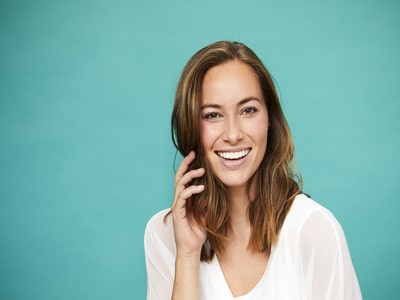 Oftentimes, older teens and adults who are referred to an orthodontist aren't very excited to begin treatment. Rightfully so! Having a mouth full of metal to clean, eat, and live around can be daunting. The option that many may overlook when searching for orthodontic treatment is Invisalign, the nearly invisible alternative to braces. Some people may write this treatment option off due to price or success rate – but we're here to bust those Invisalign myths!
Successful Treatment
It can be a scary experience when you are given a referral to see an orthodontist or consider improving your smile. Braces are grounds for embarrassment for the self-conscious teen and the up-and-coming professional. 
During Invisalign treatment, the visits are shorter than the average braces visit, they are less frequent, and discomfort is reduced. You will notice a significant difference even before your treatment is completed. 
Non-believers may say that Invisalign is not as effective as traditional braces. With the latest advances in Invisalign technology, treatment success can be as satisfying as that of someone who has braces. Many patients will finish on time, or even early with their treatment! Plus… the flexibility of Invisalign improves self-confidence and encourages patients to cooperate with their treatment and cleaning while experiencing a metal-free mouth when working toward a perfect smile.
Invisalign Cost
Invisalign is as cost-effective as traditional braces, and you will have orthodontic experts working by your side who are specialists in tooth movement and jaw development to ensure success. This is important with so much misinformation being distributed on the Internet today and with "do it yourself orthodontics" or mail in orthodontics that cause major long-term dental health issues.
There are also numerous options for payment with Invisalign. Ask your orthodontic team about financing and coverage options throughout your treatment. 
It Doesn't Take Longer
The most asked question from our patients is "how long will this take?" With traditional braces, treatment times can take between 18 and 30 months; but with an Invisalign treatment, it may only take between nine to 15 months. That's almost half the time of traditional braces!
Your Invisalign aligners are customized to fit your mouth. We use advanced 3-D computer imaging technology called iTero to replicate an exact impression of your teeth and surrounding tissue. iTero takes over 3,000 pictures a second of your teeth and mouth. This allows us to customize each aligner so that it fits your mouth and over time moves your teeth into the proper position. A set of aligners is worn for only two weeks. After two weeks you can switch your aligners with the next set and continue straightening your teeth. Over time you will notice changes in the alignment of your teeth, and in just a few months you will have a straighter, healthier smile!
Not all patients are candidates for Invisalign. However, we encourage you to contact us for a free smile exam to find out if Invisalign is the right choice for you! We are out to bust those Invisalign myths. We offer many different orthodontic treatment options to provide you with a smile to last a lifetime!